IAS expresses condolences over the passing of past Sackler Scholar Dani Karavan
Sculptor Dani Karavan, Israel Prize Laureate and creator of Knesset wall carving, dies at 90
It is with great sadness that the IAS has learned of the death of the artist, sculptor and 1977 Israel Prize Laureate Dani Karavan, who died on Saturday at the age of 90.
Dani Karavan, Sackler Scholar 2012/2013, was one of Israel's most prominent sculptors, he worked over the course of his career in Tel Aviv, Paris and Florence. He was one of the pioneers in Israel of landscape and environmental sculpture. His many works in Israel include the Habima Square in Tel Aviv, "Ohel" at Sheba Medical Center at Tel HaShomer, Ramat Gan, "Kikar Levana" in Tel Aviv's Edith Wolfson Park, the Monument to the Negev Brigade near the city of Beersheba and the "Way of Peace" near Israel's border with Egypt. Perhaps his most notable work in Israel is the huge wall carving decorating the plenum of the Knesset, Israel's parliament, named "Jerusalem, City of Peace."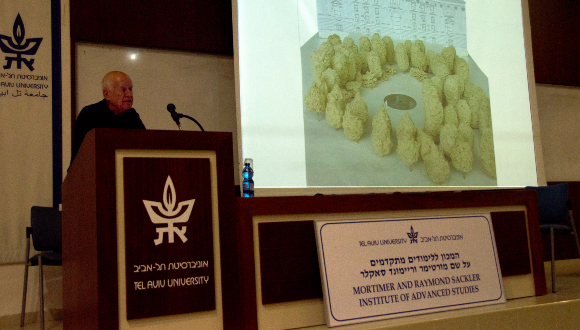 ​Dani Karavan at his lecture, Tel Aviv University, 2012.
On behalf of the IAS, we extend our heartfelt condolences to the family, friends, and loved ones of Dani Karavan in his passing. He will be greatly missed, but his legacy will live on for many years to come.